All loving couples want to be together. Unfortunately, U.S. immigration laws often get in the way.  Many couples face the possibility of a time-consuming and confusing process before being able to live together in the United States.  The firm seeks to minimize a couple's time apart.The Firm realizes that all couples want to be together ASAP. The Firm works to ensure that all clients spend as little time apart as possible. Additionally, the Firm takes all steps necessary to ensure that all clients know what to expect in completing the process.  To start now, contact the firm immediately.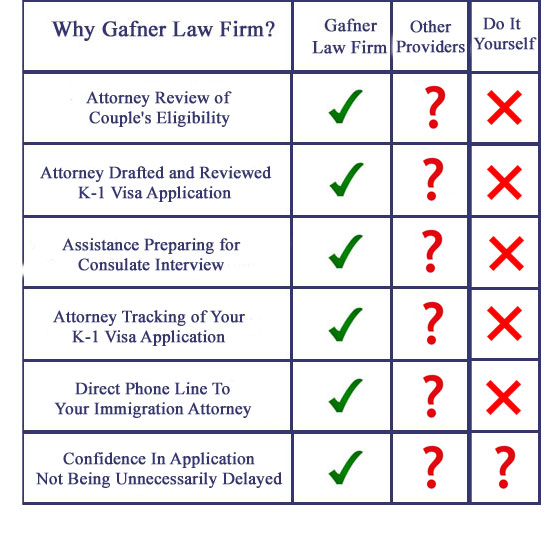 Why Gafner Law Firm?
The firm knows that a couple's time a part is extremely difficult. The firm works to ensure that a couple's separation is minimized and that a couple does not have to spend that time worrying about a K-1 application, Spousal Visa application, or Adjustment of Status application. The firm ensures that its clients have free, uninhibited access to an attorney.
Unlike many firms that only provide assistance while a couple is applying for a K-1 visa, Gafner Law Firm provides assistance to couples through the entire process – right up until the foreign national fiance(e) or spouse enters the United States.
The Firm's founder has not only assisted clients in navigating through the K-1 process, but has also authored legal articles concerning the K-1 visa and has contributed to a chapter on the K-1 visa in a leading immigration law treatise.